Introducing the MacBook Pro M2—more than a device, it's a catalyst for innovation, a tool for creators, and a paradigm shift in professional computing. It's designed to push boundaries, empower creators to chart new territories, and fuel movers and shakers to craft without limits. With unparalleled power, efficiency, and versatility, the MacBook Pro M2 is more than a device; it's a testament to groundbreaking technology, providing the tools necessary for pioneering minds to break through barriers and redefine what's possible in the realm of pro-level computing.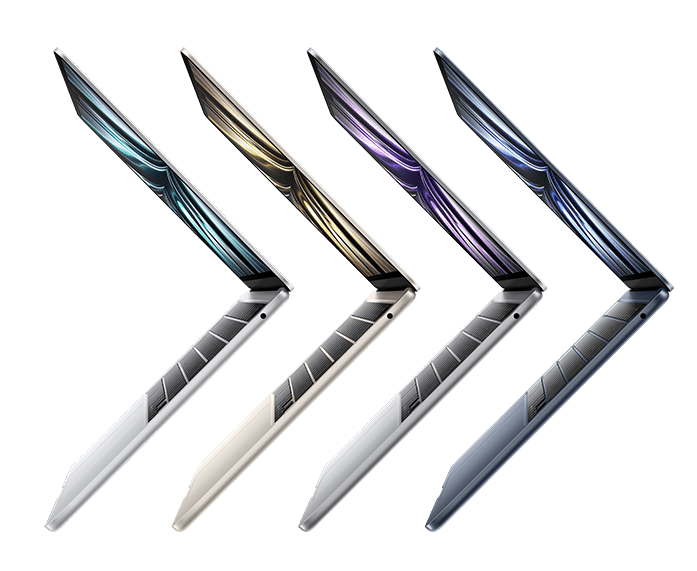 The MacBook Air M2 challenges perceptions. It's not just a lightweight device; it's a powerhouse of capability, redefining what's possible in portable computing. Combining sleek design with the M2 chip's exceptional performance, it's a statement of innovation. Don't underestimate its feather-light build; it's engineered for heavy-duty tasks, delivering remarkable power efficiency and speed. The MacBook Air M2 invites you to reassess what a lightweight laptop can achieve, revolutionizing the notion of portability without compromise. It's not just light; it's a transformative force in the world of computing.
The MacBook Pro M1 redefines the limits of power. Featuring the groundbreaking M1 Pro or M1 Max chip, it's a leap forward in laptop performance. Designed to tackle intensive tasks effortlessly, from complex coding to high-resolution video editing, it's a powerhouse. The M1 Pro delivers exceptional speed, while the M1 Max takes it to another level, offering unprecedented capability for professionals. With remarkable efficiency and groundbreaking speed, the MacBook Pro M1 redefines what's possible in a laptop, promising an unparalleled level of power and performance.
The MacBook Air, a marvel in compact design, now houses the transformative Apple M1 chip. Witness a new era of power and efficiency within our thinnest, lightest notebook. The M1 chip revolutionizes the Air's capabilities, delivering remarkable performance and speed while maintaining its sleek form. From seamless multitasking to handling demanding tasks with ease, this powerhouse combines portability and power like never before. Experience a blend of lightweight design and unprecedented performance, making the MacBook Air a compelling choice for those seeking cutting-edge technology in a highly portable package.