The latest iPad, an embodiment of versatility, caters to an array of passions. It's a hub where work thrives, games flourish, creativity blossoms, knowledge unfolds, and connections flourish. Whether it's drafting documents, diving into immersive gaming experiences, unleashing artistic endeavors, absorbing knowledge, or staying linked to loved ones, this iPad is the conduit for a multitude of pursuits. Seamlessly adapting to diverse needs, it's not just a device but a companion that empowers every facet of life, harmonizing productivity and leisure, making every endeavor an enriching and delightful experience in the palm of your hand.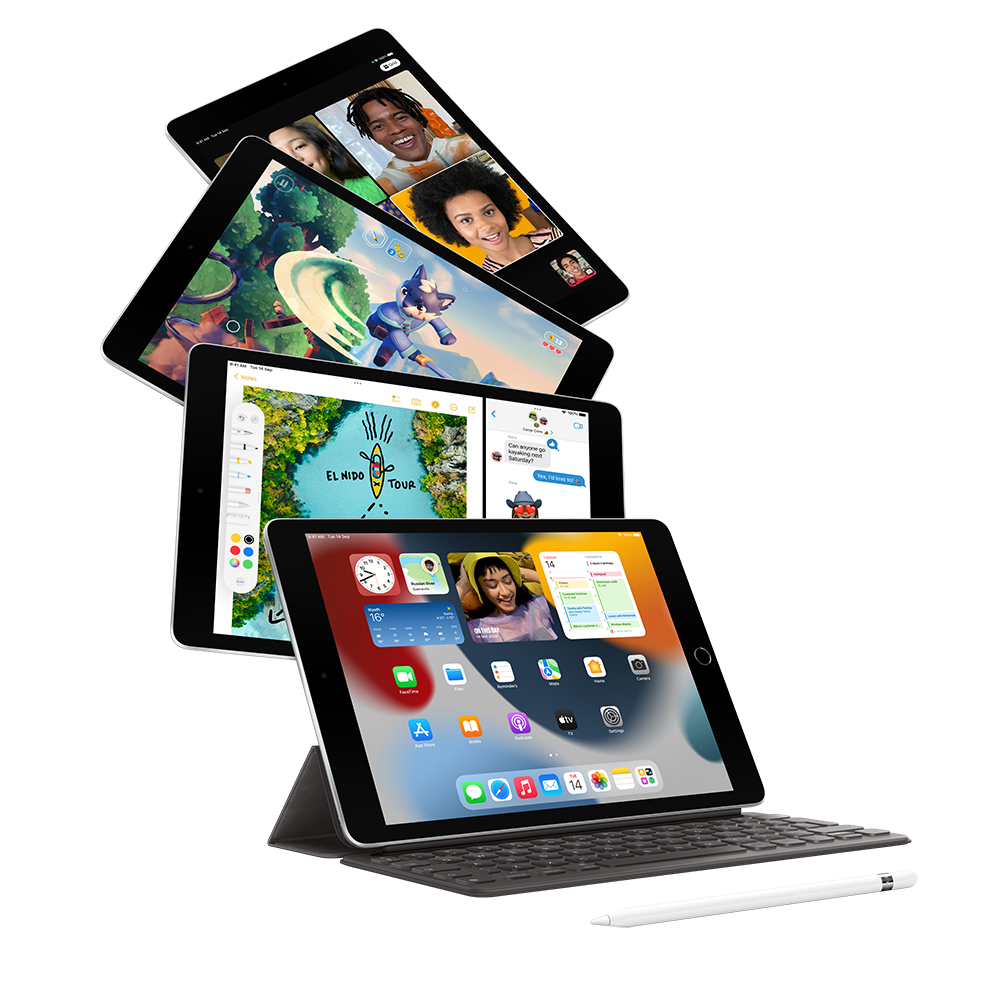 The 10.2-inch Retina display on the iPad 9 immerses users in breathtaking detail and a spectrum of vivid colors, elevating every visual experience. Its stunning clarity breathes life into photos, videos, and graphics, rendering them with remarkable precision. Whether it's streaming high-definition content, editing intricate designs, or indulging in immersive gaming, this display is the canvas that amplifies every pixel. Its brilliance doesn't just enhance entertainment; it optimizes productivity, allowing for crisp viewing of documents and vibrant presentations. From vibrant hues to intricate details, this display is a window to a world of stunning visuals that captivate and inspire.
The iPad 9 boasts a 10.2-inch Retina display, a canvas teeming with remarkable detail and a vibrant palette that mesmerizes. Each pixel comes alive, unveiling intricate textures and lifelike hues that enrich every visual encounter. Whether you're immersed in cinematic marvels, editing high-resolution images, or engaging in productivity tasks, this display is a testament to unparalleled clarity. Its brilliance transcends entertainment, enabling precise document scrutiny and dynamic presentations. From the nuanced gradients in a sunset to the crisp lines of an architectural sketch, this display transforms every moment into a vivid, immersive experience, inviting exploration and igniting creativity at every glance.
Tailored to complement the expansive Multi-Touch display, iPadOS stands as a robust yet user-friendly operating system. Its seamless integration amplifies the device's capabilities, harnessing its potential effortlessly. The interface, intuitive and dynamic, empowers users to navigate effortlessly between tasks, effortlessly managing applications, and embracing the multitasking prowess with ease. From the fluid gestures that streamline workflows to the adaptable Split View that enhances productivity, iPadOS is a harmonious fusion of power and simplicity. This OS not only amplifies the iPad 9's potential but also ensures a smooth, intuitive user experience, making it a versatile tool that adapts to diverse needs effortlessly.